Imprinted Stick Flags & Bases
Our American, Custom Imprinted Stick Flags and Bases are great giveaways or point of purchase items for companies, organizations, parade or political groups! Consider advertising your company or group with an imprinted stick flag and base. Adding your name or website is a great cost-to-exposure price point.
Please allow 2 weeks for orders of 2,500 or more. For larger orders, please call for a custom quote.
*There is a one-time setup fee of $35.00 for each individual imprint.
**All Imprinted Sticks – Minimum Quantity of 1000 – Each stick flag can be imprinted with any text or logos up to 2.75″ long.
Call For Pricing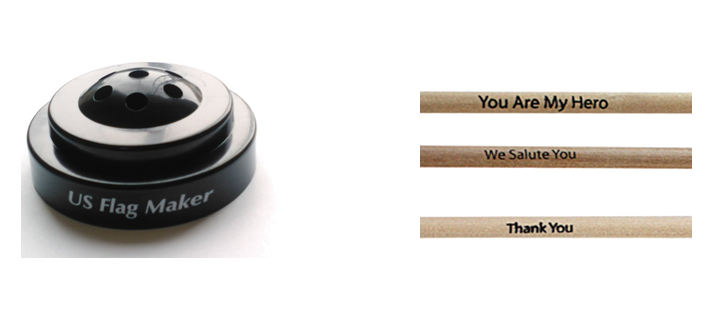 Imprinted Sticks

SKU#
DESCRIPTION     
DOWEL SIZE        
04060i
4" x 6" – No Tip – Imprinted
3/16" x 10" Dowel
04061i
4" x 6" – Spear Tip – Imprinted
3/16" x 10" Dowel
04067i
4" x 6" – Safety Ball Tip – Imprinted
3/16" x 10" Dowel
04069i
4" x 6" – Plastic Spear Tip – Imprinted
3/16" x 10" Dowel – Plastic
06090i
6" x 9" – No Tip – Imprinted
1/4" x 18″ Dowel
06091i
6" x 9" – Spear Tip – Imprinted
1/4" x 18″ Dowel
08120i
8" x 12" – No Tip – Imprinted
5/16" x 24" Dowel
08121i
8" x 12" – Spear Tip – Imprinted
5/16" x 24" Dowel
08125i
8" x 12" – Spear Tip Hemmed – Imprinted
5/16" x 24" Dowel
12180i
12" x 18" – No Tip – Imprinted
5/16" x 30" Dowel
12181i
12" x 18" – Spear Tip – Imprinted
5/16" x 30" Dowel
12185i
12" x 18" – Spear Tip Hemmed – Imprinted
5/16" x 30" Dowel
12183i
12" x 18" – Spear Tip – Imprinted
3/8" x 30" Dowel
Imprinted Bases

SKU#
DESCRIPTION     
SIZE        
94601i
1 Hole High-Gloss Black Styrene Plastic Finish
3/16″ Hole Diameter
94602i
2 Hole High-Gloss Black Styrene Plastic Finish
3/16″ Hole Diameter
94603i
3 Hole High-Gloss Black Styrene Plastic Finish
3/16″ Hole Diameter
94604i
4 Hole High-Gloss Black Styrene Plastic Finish
3/16″ Hole Diameter
94605i
5 Hole High-Gloss Black Styrene Plastic Finish
3/16″ Hole Diameter
94606i
6 Hole High-Gloss Black Styrene Plastic Finish
3/16″ Hole Diameter
94607i
7 Hole High-Gloss Black Styrene Plastic Finish
3/16″ Hole Diameter